Shutters Sacramento Home Fashion Designs
Some of us, first time home buyers in particular, do not possess a strong knowledge of home interior decorating.  Window coverings and treatments are just one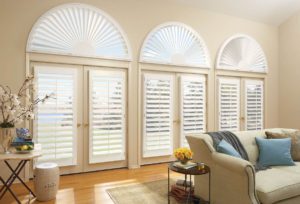 area where a little knowledge can go a long way. In this article, we will talk about the basics of window shutters.
A window shutter is a solid and decorative window covering consisting of a frame of vertical stiles and horizontal rails. Contained within this frame can be louvers which can be moveable or fixed, and horizontal or vertical. Window shutter frames can also display solid panels, fabric, glass and any other item that can be mounted within the frame. Shutters are used for a diversity of reasons, which include governing the amount of sunlight that comes into a room, to afford privacy and security, to protect against weather or unwanted intrusion and, finally, to enhance the appearance of a home. To find out more about shutters Sacramento Home Fashion Designs has this and more about window treatments.
Shutters can be installed to fit within the opening, or to overlap the opening, depending on the application, and construction of the window frame.  "Window shutter" includes both interior shutters, used on the inside of a house or building, and exterior shutters, used on the outside of a structure.
Interior shutters are many times divided into narrow units that are hinged so that two or more units of the shutter cover each side of a window opening when closed. Louvered shutters that are adjustable have louvers or slats, controlled by a tilt bar or rod to adjust the louver position. This allows you to keep them in a uniform position, to control light, visibility and airflow. Shutters with adjustable louvers are described many times as plantation shutters. Plantation shutters typically have only two shutters per window and wide louver blades.
Some other interior shutters use fixed louvers that do not move, solid raised or flat panels; fabric inserts; or tinted glass. Shutters can be constructed in a single tier unit that has one shutter top to bottom of a window opening as well as multiple tiers. Multiple tier units include separate shutters on each tier that allows the top shutters to be opened autonomously from the bottom shutters. Café-type shutters are those that cover only the lower portion of a window.
Full height shutters can be made with a horizontal divider rail which separates the upper and lower portions of the shutter. With adjustable louvered shutters this gives better control as the louvers above the divider rail can be operated independently from the louvers below the divider rail. Interior shutters can be fabricated from various woods, painted or stained, and a variety of man-made materials.  Shutters made to close tolerances are desirable for the best possible fit.
For more depth information and beautiful examples of interior shutters Sacramento Home Fashion Designs is an excellent resource.